We provide Quality Assurance (QA)
Services for the following Equipment's:

X-ray (fixed and Mobile) / DR System

Cathlab (Interventional Radiology)

C Arm machines

Dental X-rays

Orthopentogram(OPG)

Cone beam CT (CBCT)

CT Scan

Mammography

Bone Mineral Densitometer (BMD)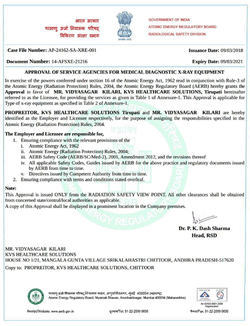 OUR VISION
Distinguish ourselves as an innovative provider of high-quality Quality Assurance (QA) services, Radiation Safety Testing's and Shielding Calculations solutions for Radiation Generating Equipment's (RGE).


Be recognized for our ability to rapidly provide Radiation Safety solutions in the most challenging and complex situations in a cost effective manner.
OUR MISSION
Our mission is to protect and promote radiation safety through guidance and collaboration with the radiation community. To achieve our mission's goals we:
Deliver customer-focused Quality Assurance (QA), Compliance (QC) and Radiation Safety solutions for Medical Diagnostic Radiology Equipment through innovation and collaboration.
Develop strategic relationships with our technology providers to ensure our customers have access to superior technology in Radiation Protection and Safety.
Promote organizational quality through a unique integration of people, process and technological solutions.
Support the Radiation Safety needs of our community through cutting edge technological solutions.
OUR VALUES
Independence
Responsibility
Being public and transparent
Professionalism
Efficiency
Commitment to progress